Bob Sarlatte is a San Francisco-based, nationally known commercial actor, radio and television personality, comedian and speaker.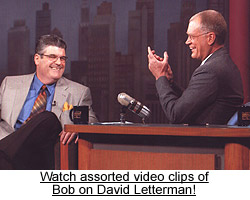 His numerous network television credits began with his stint as announcer, writer, and regular comedy contributor on the first David Letterman Show for NBC in 1980. He then went on to appear very successfully on the Late Night version of that program over twenty times, and has followed David's show with guest spots on the CBS version, The Late Show, as well.
In the years after his original Letterman affiliation, Bob served as co-host and features reporter on the Bay Area's popular AM San Francisco, and later parlayed that into similar assignments as national humor reporter for both National PM Magazine and Entertainment Tonight and doing comedy/commentary for the Fox Sports Network.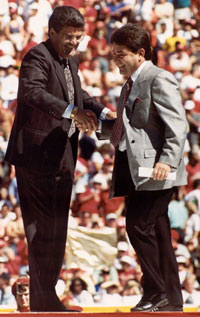 As one of the busiest all-around performers working out of the San Francisco Bay Area and Los Angeles, Bob has appeared in or "voiced" over 5,000 radio and television commercials and cartoons and also guested in series work on NBC's Night Court and ABC's Match Game; he co-hosted the PBS comedy series Comedy Tonight, and has had roles in the movies Star Trek IV, So I Married an Ax Murderer, EdTV and Flubber. As a standup performer, Bob has found time over the years to co-headline or "open" for such diverse and renowned acts as Chris Isaak, Julio Iglesias, The Righteous Brothers, George Benson, The Beach Boys and many, many others.

But it is in the area of special events, either as a host/emcee, headlining talent or producer where Bob has been most successful and has found the most pleasure in recent years. Long known and much in demand as a corporate spokesman at meetings and conventions, and with a keen sense of the local community, Bob has become a fixture at such annuals as the Bay Area Emmies, not to mention a host of charitable causes including the Salvation Army and the American Cancer Society.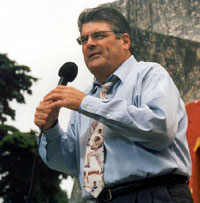 As the long-time field announcer for the San Francisco Forty Niners, a former scholarship athlete, and a founding member of the nationally-travelled musical comedy group, Butch Whacks and the Glass Packs, Bob has traded on his expansive knowledge in the music and sports arenas to become a "must have" act at such events as The Bammies and the annual Cal-Stanford Big Game Luncheon.